A FEW HIGHLIGHTS…
Richard Ford:
6/8, 8pm @ Gables

The distinguished modern American master and Pulitzer Prize-winning author returns with Canada (Ecco, $27.99) a haunting and elemental novel. more»

Leonard Pitts, JR.:
6/9, 7pm @ Gables

The Pulitzer prize-winning columnist weaves a beguiling, cinematic love story against a rich tapestry of American history in Freeman (Agate Bolden, $16). more»

Mark K. Shriver:
6/13, 8pm @ Gables

An intimate portrait of an extraordinary father-son relationship, A Good Man (Henry Holt, $24) discovers the moral principles that guided a legendary man. more»

Sara Lawrence-Lightfoot: 6/14, 8pm @ Gables

In Exit(Sarah Crichton, $26), the renowned sociologist explores the wisdom of saying goodbye. more»

Steven Raichlen:
6/24, 7pm @ Gables

From the celebrated author of Planet Barbecue comes a debut novel of love, loss, redemption, and really good food in Island Apart (Forge, $24.99). more»

Jesmyn Ward:
6/25, 8pm @ Gables

Winner of the 2011 National Book Award, Salvage the Bones (Bloomsbury, $15) is a big-hearted novel about familial love and community against all odds. more»
THE COMPLETE CALENDAR…

Friday, June 1, Gables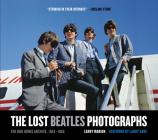 The lost Beatles and the lost Rolling Stones photographs — taken in the 1960s by their American road manager, Bob Bonis — were LOST for 40 years … until discovered by his son, then acquired and exhibited by rock 'n roll memorabilia expert, Larry Marion. Marion is recognized as one of the world's leading authorities on rock and music memorabilia, especially concert posters. He has worked with many of the leading auction houses, set several world-record prices for Beatles memorabilia, and written and designed sixteen catalogs of music-related memorabilia. Unearthed after forty-five years, the photos that comprise The Lost Beatles / Lost Rolling Stones Photographs (It Books, $29.99)
form a groundbreaking portrait of two of the most iconic bands of the twentieth century. Funny, surprising, provocative, beautiful, these photos recall an unforgettable period in history and offer a fresh look at these soon-to-be legends at the beginning of their fame. All proceeds from the sale of Lost Beatles/Lost Rolling Stones this evening, will benefit The Grace Gold Memorial Scholarship Fund at the Miami Foundation. Grace's death (from a falling brick in 1979) was the inspiration for Local Law 10 in New York City — and the resulting scaffolding that has saved many lives since. The Grace Gold Memorial Scholarship Fund now gives her a legacy that will educate and inspire writers and journalists who will be our future! 8pm

Coral Gables Gallery Night: Palmetto Senior High Student Photography Exhibit, curated by Rob Friedman, 7-10pm

Live Music in the Courtyard: MARIA ALEJANDRA RODRIGUEZ, 7-11pm
Saturday, June 2, Gables
Live Music in the Courtyard: DEBBIE ORTA TRIO, 8pm — Midnight
Saturday, June 2, Westhampton Beach

Attention all unpublished writers: Pitchapalooza is coming to Westhampton Beach! Books & Books will be hosting Arielle Eckstut and David Henry Sterry, authors of The Essential Guide to Getting Your Book Published
— aka "The Book Doctors" — to make your dreams come true! At Pitchapalooza, 20 participants, selected at random, are given 60 seconds — no more, no less! — to pitch their book idea to veterans of the publishing industry. You'll get a critique on everything from pitch to style to presentation. At the session's end, one lucky writer is chosen to meet with a literary agent to discuss the book's future. So start working on that pitch! But make sure to heed Sterry's advice: "Don't tell me your book is sad; make me cry. Don't tell me your book is funny; make me laugh." 4pm
Sunday, June 3, Gables
Coral Reef High School's Literary/Art Magazine, proudly announces the arrival of its 2012 edition of Elysium. The public is cordially invited to an afternoon of dramatic readings and music. Additionally several award-winning student artists will display their work and briefly discuss their philosophy and motivation. The magazine, printed annually since 2005, has won top national awards from NSPA, CSPA, and NCTE'S PRESLM program. Join us! 12:30-2pm

Have you been working in a professional capacity for 10 years and want a change? Join Peace Corps Response for an information session! Peace Corps Response provides qualified professionals the opportunity to serve in rewarding, short-term assignments, in various programs around the world. Attend this session to find out more information about Peace Corps' exciting new programs, upcoming assignments, and how to apply. You will also be able to ask questions directly to a Recruiter AND a returned Response Volunteer! When you serve as a Peace Corps Response Volunteer, you bring your skills and experience to projects in places where you are needed most. *To be eligible for service you must be at least 18 years of age and a U.S. citizen, a Returned Peace Corps Volunteer (RPCV) or have at least 10 years of professional experience. 1pm
Monday, June 4, Gables

The Art of Intelligence (Penguin, $27.95)
draws from the full arc of Henry Crumpton's espionage and covert action exploits to explain what America's spies do and why their service is more valuable than ever. From his early years in Africa, where he recruited and ran sources, from loathsome criminals to heroic warriors; to his liaison assignment at the FBI, the CIA's Counterterrorism Center, the development of the UAV Predator program, and the Afghanistan war; to his later work running all CIA clandestine operations inside the United States, he employs enthralling storytelling to teach important lessons about national security, but also about duty, honor, and love of country. No book like The Art of Intelligence has ever been written-not with Crumpton's unique perspective, in a time when America faced such grave and uncertain risk. It is an epic, sure to be a classic in the annals of espionage and war. 8pm
Tuesday, June 5, Gables

In The Faiths of the Postwar Presidents (University of Georgia Press, $29.95)
David L. Holmes looks at the role of faith in the lives of the twelve presidents who have served since the end of World War II. Holmes examines not only the beliefs professed by each president but also the variety of possible influences on their religious faith, such as their upbringing, education, and the faith of their spouse. In each profile close observers such as clergy, family members, friends, and advisors recall churchgoing habits, notable displays of faith (or lack of it), and the influence of their faiths on policies concerning abortion, the death penalty, Israel, and other controversial issues. National interest in the faiths of our presidents is as strong as ever, as shown by the media frenzy engendered by George W. Bush's claim that Jesus was his favorite political philosopher or Barack Obama's parting with his minister, the Reverend Jeremiah Wright. Holmes's work adds depth, insight, and color to this important national topic. 8pm
Wednesday, June 6, Gables

Peter Warlock is a magician with a dark secret. Every night, he amazes audiences at his private theater in New York, where he performs feats that boggle the imagination. But his day job is just a cover for his otherworldly pursuits: Peter is a member of an underground group of psychics who gaze into the future to help prevent crimes. No one, not even his live-in girlfriend, knows the truth about Peter—until the séance when he foresees an unspeakable act of violence that will devastate the city. As Peter and his friends rush to prevent tragedy, Peter discovers that a shadowy cult of evil psychics, the Order of Astrum, know all about his abilities. They are hunting him and his fellow psychics down, one by one, determined to silence them forever. Dark Magic(Tor Books, $24.99)
is a genre-bending supernatural thriller from national bestselling novelist and real-life magician James Swain. 8pm
Thursday, June 7, Gables
Note: This event is in Spanish. Este no es un libro complaciente para analistas superficiales, pero sí necesario para quien quiera entender las razones de la popularidad de Hugo Chávez Frías, la forma de derrotarlo en octubre del próximo año, y saber lo que nos reserva el futuro. Primero, hay que leer la realidad, saber lo que quiere el venezolano, lo que nos revela examinando una larga sucesión de encuestas, como hace Jose Antonio Gil Yepes. Cómo ganar o perder las elecciones presidenciales de 2012 en Venezuela, es un libro de consulta, escrito por uno de los más reconocidos conocedores de la opinión pública venezolana. Léalo, si quiere saber no sólo como ganar las elecciones, sino evaluar objetivamente los errores y los aciertos de la oposición y del propio Chávez en las campañas electorales. 6:30pm


What We Leave Behind (Createspace, $14.99)
by Rochelle B. Weinstein chronicles the life and emotional growth of Jessica Parker as she frees herself from the past and moves forward with her future. Jonas Levy, a twenty-two-year-old medical student, has abruptly walked out of Jessica's life after an intense summer romance, and the wounds are still raw. Is it possible to ever forget the boy you first gave your heart to? Jessica eventually moves on and marries film producer, Marty Tauber, starts a family, and appears to have it all, until things slowly begin to unravel. With an unexpected phone call from New York, a secret from Jessica's past comes to light. Thrust into a modern day moral and ethical dilemma, Jessica must face the pain of her past or lose everything she holds dear. 8pm
Friday, June 8, Gables

The only writer ever to win both the Pulitzer Prize and Pen/Faulkner Award for a single novel (Independence Day) Richard Ford follows the completion of his acclaimed Bascombe trilogy with Canada. After a five-year hiatus, an undisputed American master delivers a haunting and elemental novel about the cataclysm that undoes one teenage boy's family, and the stark and unforgiving landscape in which he attempts to find grace. A powerful and unforgettable tale of the violence lurking at the heart of the world, Richard Ford's Canada will resonate long and loud for readers of stark and sweeping novels of American life, from the novels of Cheever and Carver to the works of Philip Roth, Charles Frazier, Richard Russo, and Jonathan Franzen. A true masterwork of haunting and spectacular vision from one of our greatest writers, Canada (Ecco, $27.99)
is a profound novel of boundaries traversed, innocence lost and reconciled, and the mysterious and consoling bonds of family. Told in spare, elegant prose, both resonant and luminous, it is destined to become a classic. Presented in collaboration with The Center for Literature and Theater at Miami Dade College. 8pm

Live Music in the Courtyard: FEDERICO BRITOS, 7-11pm
Saturday, June 9, Gables

With two New York Times best sellers and continued star-status on The Real Housewives of New Jersey, Teresa Giudice has lots more to share with her fans. In this latest book, Teresa provides a detailed program for how she keeps her voluptuous, sexy figure after four kids (and as she approaches 40). The more than 60 recipes in Fabulicious!: Fast & Fit (Running Press, $18.95)
emphasize "skinny": including lessons on playing up veggies and grilled meats, cooking low-calorie Italian favorites, and rules for the five things you MUST cut out (and what to replace them with). But Teresa isn't about deprivation. She loves food— especially pasta and Tiramisu! Teresa proves that you CAN have your skinny jeans and spaghetti too. She tells you exactly how to live La Bella Vita- the "skinny" way. 2pm


Freeman (Agate, $16)
takes place in the first few months following the Confederate surrender and the assassination of Abraham Lincoln. Upon learning of Lee's surrender, Sam–a runaway slave who once worked for the Union Army–decides to leave his safe haven in Philadelphia and set out on foot to return to the war-torn South.  At bottom, Freeman is a love story–sweeping, generous, brutal, compassionate, patient–about the feelings people were determined to honor, despite the enormous constraints of the times. At the same time, this book addresses several themes that are still hotly debated today, some 145 years after the official end of the Civil War. Freeman by Pulitzer Prize-winning columnist Leonard Pitts, Jr., illuminates the times and places it describes from a fresh perspective, with stunning results. It has the potential to become a classic addition to the literature dealing with this period. Few other novels so powerfully capture the pathos and possibility of the era particularly as it reflects the ordeal of the black slaves grappling with the promise–and the terror–of their new status as free men and women. 7pm

Live Music in the Courtyard: STEVE KORNICKS & MARIANA MARTIN, 8pm -Midnight
Saturday, June 9, Grand Cayman

After hosting Robert Goolrick for a two week writer's residency in February 2011, we're excited to bring the #1 New York Times bestselling author back to present his latest novel, Heading Out to Wonderful
, which he completed right here in Cayman. It is the summer of 1948 when a handsome, charismatic stranger, Charlie Beale, recently back from the war in Europe, shows up in the sleepy village of Brownsburg, Virginia carrying two suitcases. One contains his few possessions, including a fine set of butcher knives; the other is full of money. A lot of money. When his attraction to Sylvan, the teenage bride of the town's wealthiest citizen, turns from lust to an all-consuming passion, Charlie's possessive nature threatens to destroy everything and everyone in its path. This much-anticipated follow-up to A Reliable Wife is an exciting, erotically charged, and altogether unforgettable story of love gone terribly wrong. Part of the Books & Books International Visiting Author Series, this free event is sponsored by Camana Bay, the Cayman
Islands Department of Tourism and Sunshine Suites Resort. 7pm
Monday, June 11, Gables

Set against the backdrop of the turbulent late 1960s and early 1970s, this compelling book provides the first comprehensive history of the 1972 Munich Olympic Games, notorious for the abduction of Israeli Olympians by Palestinian terrorists and the hostages' tragic deaths after a botched rescue mission by the German police. Drawing on a wealth of newly available sources from the time, eminent historian David Clay Large explores the 1972 festival in all its ramifications in Munich 1972 (Rowman & Littlefield, $29.95)
. Writing with flair and an eye for telling detail, Large brings to life the stories of the indelible characters who epitomized the Games. With the Olympic movement in constant danger of terrorist disruption, and with the fortieth anniversary of the 1972 tragedy upon us in 2012, the Munich story is more timely than ever. 8pm
Tuesday, June 12, Gables

It is the summer of 1948 when a handsome, charismatic stranger, Charlie Beale, recently back from the war in Europe, shows up in the town of Brownsburg, a sleepy village of a few hundred people, nestled in the Valley of Virginia.  Finding work at the local butcher shop, Charlie befriends the owner and his family, including the owner's son, Sam, who he is soon treating as though he were his own flesh and blood.  This last encounter sets in motion the events that give Robert Goolrick's powerful tale the stark, emotional impact that thrilled fans of his previous novel, A Reliable Wife. Charlie's attraction to Sylvan Glass turns first to lust and then to a need to possess her, a need so basic it becomes an all-consuming passion that threatens to destroy everything and everyone in its path. Heading Out to Wonderful (Algonquin, $24.95)
is a suspenseful masterpiece, a haunting, heart-stopping novel of obsession and love gone terribly wrong in a place where once upon a time such things could happen. Presented in collaboration with The Center for Literature and Theater at Miami Dade College. 8pm
A contest for you: Did your book club read A Reliable Wife? Were you left with questions you always wanted to ask Robert Goolrick? Well, here is your chance. Watch our FB Page for trivia questions about A Reliable Wife in the coming days. If you answer correctly each time, you and your book club may win a private reception with the author prior to his reading at Books & Books.
Tuesday, June 12, Bal Harbour Shops

Rapture (Delacorte Books, $17.99)
, the fourth & final Fallen novel, is the Lauren Kate book the world has been waiting for. The sky is dark with wings…Like sand through an hourglass, time is running out for Luce and Daniel. To stop Lucifer from erasing the past, they must find the place where the angels fell to earth. Dark forces are after them, and Daniel doesn't know if he can do this—live only to lose Luce again and again. Yet together they face an epic battle that will end with lifeless bodies . . . and angel dust. Great sacrifices are made. Hearts are destroyed. And suddenly Luce knows what must happen. For she was meant to be with someone other than Daniel. The curse they've borne has always and only been about her—and the love she cast aside. The choice she makes now is the only one that truly matters. In the fight for Luce, who will win? The astonishing conclusion to the Fallen series. Heaven can't wait any longer. 7:30pm
Wednesday, June 13, Gables

In this intimate portrait of an extraordinary father-son relationship, Mark K. Shriver discovers the moral principles that guided his legendary father and applies them to his own life When Sargent "Sarge" Shriver—founder of the Peace Corps and architect of President Johnson's War on Poverty—died in 2011 after a valiant fight with Alzheimer's, thousands of tributes poured in from friends and strangers worldwide. These tributes, which extolled the daily kindness and humanity of "a good man," moved his son Mark far more than those who lauded Sarge for his big-stage, headline-making accomplishments. After a lifetime searching for the path to his father's success in the public arena, Mark instead turns to a search for the secret of his father's joy, his devotion to others, and his sense of purpose. In the process, Mark discovers much about himself, as a father, as a husband, and as a social justice advocate. A Good Man (Henry Holt, $24)
is an inspirational and deeply personal story about a son discovering the true meaning of his father's legacy. 8pm
Thursday, June 14, Gables

Sara Lawrence-Lightfoot, a sociologist and a professor at the Harvard Graduate School of Education, is enthralled by exits: long farewells, quick goodbyes, sudden endings, the ordinary and the extraordinary. There's a relationship, she attests, between small goodbyes and our ability "to master and mark the larger farewells." In Exit: The Endings That Set Us Free (Sarah Crichton, $26)
, she explores the ways we leave one thing and move on to the next; how we anticipate, define, and reflect on our departures; our epiphanies that something is over and done with. Too often, Lawrence-Lightfoot believes, we exalt new beginnings with the expense of learning from our goodbyes. Exit finds wisdom and perspective in the possibility of moving on and marks the start of a new conversation, to help us discover how we might make our exits with purpose and dignity. 8pm
Thursday, June 14, Museum of Art Fort Lauderdale

Tough, brainy alchemist Sydney Sage and doe-eyed Moroi princess Jill Dragomir are in hiding at a human boarding school in the sunny, glamorous world of Palm Springs, California. The students carry on with their lives in blissful ignorance, while Sydney, Jill, Eddie, and Adrian must do everything in their power to keep their secret safe. But with forbidden romances, unexpected spirit bonds, and the threat of Strigoi moving ever closer, hiding the truth is harder than anyone thought. Populated with new faces as well as familiar ones, Richelle Mead's breathtaking Bloodlines series explores all the friendship, romance, battles, and betrayals that made the #1 New York Times bestselling Vampire Academy series so addictive. In this second book — The Golden Lily (Razorbill, $18.99)
, the drama is hotter, the romances are steamier, and the stakes are even higher. 6pm
Friday, June 15, Gables

Readers' Circle Lunch with Melanie Gideon: Gideon won widespread praise for her humorous and all-too-true ruminations on love, marriage, and everyday family life in her memoir The Slippery Year: A Meditation on Happily Ever After, named "Best Book of the Year" by NPR and the San Francisco Chronicle. Now, in her debut novel, WIFE 22 (Ballantine, $26)
Gideon channels her gift of delving deep into the middle-aged woman's psyche and compels you take a good, hard, not-always-pleasant look at yourself — regardless of your age. Optioned for film and with rights sold in more than 19 countries to date, WIFE 22 is, no doubt, the buzz book of the summer. Join us for buffet lunch with the witty and charming Melanie, as she leads a discussion of the themes in her book, including love, marriage and self-discovery. You'll choose from a selection of special items at The Café at Books & Books by Chef Allen: $25 per person includes sandwich, salad, beverage, cookie, tax & tip. Space is limited, so reserve your place today. RSVP here. 12pm


Maybe it was those extra five pounds Melanie Gideon gained. Maybe it was because I was about to turn the same age my mother was when I lost her. Maybe it was because after almost twenty years of marriage my husband and I seemed to be running out of things to say to each other. But when the anonymous online study called "Marriage in the 21st Century" showed up in my inbox, I had no idea how profoundly it would change my life. It wasn't long before I was assigned both a pseudonym (Wife 22) and a caseworker (Researcher 101). And, just like that, I found myself answering questions. Before the study, my life was an endless blur of school lunches and doctor's appointments, family dinners, budgets, and trying to discern the fastest-moving line at the grocery store. But these days, I'm also Wife 22 (Ballantine, $26)
. And somehow, my anonymous correspondence with Researcher 101 has taken an unexpectedly personal turn. Soon, I'll have to make a decision—one that will affect my family, my marriage, my whole life. 8pm

Live Music in the Courtyard: SAM SAVAGE TRIO, 7-11pm
Friday, June 15, Westhampton Beach

Books & Books is hosting bestselling author Frances Osborne for the release of her latest novel, Park Lane
. Hailed as "intoxicating" by People Magazine, Park Lane follows the lives and decisions of two young women in early 20th century London. For those who can't ever get enough of the frolics and affairs of the British upper class, this book is for you. Join us for this special event! 7pm
Saturday, June 16, Gables

Learn to Live Through Cancer (Demos Health, $18.95)
is the result of Dr. Stewart Fleishman's three decades of research, patient outreach and the development of his model of supportive integrative cancer treatment. The book presents a step-by-step guide to improve the length and quality of life for cancer survivors, helping them to manage the variety of physical, emotional, and spiritual issues they face proactively. Cancer survivors learn how to evaluate their condition, improve their communication with healthcare providers, research their illness and treatment options, seek complementary therapies when necessary, improve overall health habits, tend to their emotional well-being, and continue to monitor the long-term success of their survivorship program. 5pm

BLOOMSDAY was made famous by James Joyce's novel Ulysses and is celebrated wherever you find the Irish. Now it's your turn to don your turn-of-the 19th century apparel and celebrate in earnest. The evening starts at Books & Books where actors from the Actors' Playhouse will read from Ulysses (the parts that were not banned). Then a piper and flag bearers will lead us on a short odyssey to John Martin's Irish Restaurant for the Bloomsday Feast with a special menu and prices. Plenty of free parking is available in the City Garage behind John Martin's Restaurant on Aragon Avenue. For further information, please call 305-273-0118. Starts at 6:30pm.

Live Music in the Courtyard: THE DION KERR TRIO, 8pm – Midnight
Monday, June 18, Gables

Evelyn Lozada, the breakout star of VH1's hit reality show Basketball Wives, brings you her first novel in the hot new series, The Wives Association (Cash Money Content, $24.99)
. Eve Inez marries Los Angeles Leopard's superstar wide receiver, Chase Landon, and finds herself in a close-knit circle of friends who are also married to elite athletes. Each of the wives soon discover their lives aren't all glitz and glam, and that with wealth and fame there's always a price to pay.  Inner Circle is a jaw-dropping peek into the lives of a group of women married to professional athletes. This gripping page-turner will make it impossible for readers to determine where real life ends and fiction begins and is sure to have every reader salivating for more. 8pm
Tuesday, June 19, Gables

In The Watery Part of the World (Algonquin, $13.95)
, Michael Parker has created a wholly original world from two known facts: (1) Theodosia Burr Alston, daughter of the controversial vice president Aaron Burr, disappeared in 1813 while en route by schooner from South Carolina to New York; and (2) in 1970, two elderly white women and one black man were the last townspeople to leave a small barrier island off the coast of North Carolina. In this fiction based on historical fact, Parker weaves a tale of adventure and longing as he charts one hundred and fifty years in the life and death of an island and its inhabitants the descendants of Theodosia Burr Alston and those of the freed man whose family would be forever tethered to hers. It's a tale of pirates and slaves, treason and treasures, madness and devotion, that takes place on a tiny island battered by storms, infested with mosquitoes, and cut off from the world as difficult to get to as it is impossible to leave for those who call it home. 8pm
Wednesday, June 20, Gables

The Last Will and Testament of Lemuel Higgins (Blackbriar, $12.99)
by Patrick J. O'Connor is the story of two men, each of whom stands at the edge of the abyss. They are drawn together to find resolution or perish in the attempt. One seeks forgiveness before his time runs out; the other seeks deliverance from the inexorable tide of change. What they achieve together is greater than either could have imagined. 8pm
Thursday, June 21, Gables

Note: This event is in Spanish. Concebido entre viajes, cavilaciones y auto analisis y hechos de pedazos de tierra y restos de indentidad, esta coleccion de cuentos que nos presenta el escritor Jose Ignacio Valenzuela ve la luz con un titulo muy sugestivo. Salida de emergencia (Terranova Editores, $19.95)
hurga en los temas del fracaso, el amor y la evasion con una perspectiva mordaz e innovadora. A traves de estos poderosos cuentos, Valenzuela nos anuncia que "es a traves de la tinta y la creatividad donde estan las verdaderas salidas de emergencia." 8pm
Friday, June 22, Gables

Poet and novelist Pablo Medina's new book, Cubop City Blues(Grove, $25)
, fuses raw, passionate language and elegant lyricism to breathe life into a musically disguised New York City, shaped by jazz masters, refugees, and storytellers.  Our guide into Cubop City is The Storyteller, born nearly blind and shrouded in his mother's guilt.  Through his tales—full of magic, sorrow, longing, and romance—Cubop City surges colorfully to life. Moving through myriad points of view, The Storyteller imagines a world populated by well-known figures like Chano Pozo, the Cuban percussionist, and Jelly Roll Morton, the American jazz pianist, and invented characters. Molded in the cadence and harmony of Afro-Cuban jazz, Cubop City Blues is a symphonic portrait of a bustling urban landscape and the intimate lives and stories that give a city its voice. Presented in collaboration with The Center for Literature and Theater at Miami Dade College. 8pm

Live Music in the Courtyard: NELSON POLANCO, 7-11pm
Saturday, June 23, Gables

If you think a healthy weight-loss program means choking down dry chicken breasts and "blah" broccoli — think again! In The Fun Fit Foodie Cookbook (Advantage Media, $26.99)
, bestselling author, international wellness expert and super fitness model Jennifer Nicole Lee reveals her fat blasting and muscle fueling recipes that your tastebuds and your body will love. Working with your body, not against it, JNL's Fun, Fit Foodie recipes bring on the flavor! Hearty, delicious breakfasts, lunches, dinners, and snacks will keep your taste buds happy and amp up your metabolism to burn fat faster than ever. Get smart and get fit the JNL way with The Jennifer Nicole Lee Fun, Fit Foodie Cookbook. 7pm
Saturday, June 23, Westhampton Beach

Teresa Giudice, star of "The Real Housewives of New Jersey" and New York Times bestselling author, is coming to Books & Books to tell you how you can enjoy your spaghetti AND fit into those skinny jeans! In her latest book, Fabulicious: Fast & Fit
, Teresa provides a detailed program for how she maintains her voluptuous, sexy figure while keeping pasta and tiramisu on the menu. Fabulicious! emphasizes the "skinny" and provides over 60 recipes, as well as lessons on playing up veggies and rules for the five things you must cut out (and what to replace them with). This book is for the hip, health-conscious home cook — if this is you, stop by for your very own autographed copy! 2pm
Sunday, June 24, Gables
Join us for a free reading of a new play, Flesh and Blooders, by award-winning author Cynthia Joyce Clay. Judy Punchinello, the world famous Cuban puppet master, needs two apprentices, but she does not like "flesh-and-blooders." She prefers her real friends, her puppets. Kalpita Aspara, who is trained in Indian classical dance, arrives to audition. Al Leighlewya, suffering from amnesia, wanders in from the street. Ancient culture meets young culture is this darkly funny story of identity. 3:30pm


Claire Doheney, recovering from a serious illness, agrees to house-sit in an oceanfront mansion on Chappaquiddick island in Martha's Vineyard. The last thing she expects to find is love.  Then she meets a mysterious man the locals call the Hermit. No one knows his real name or where he lives. To their mutual surprise, Claire and the stranger discover that they share a passion for cooking that soon sparks something more. Told by a New York Times bestselling author and international TV host with a keen eye for Chappaquiddick's extraordinary natural beauty, Island Apart (Forge Books, $24.99)
has it all—romance, history, travel, crime, lovemaking of exquisite intensity, and cooking scenes so vivid, they'll make your taste buds ache with hunger. Steven Raichlen's novel is a smart love story—not to mention a terrific beach read. Think The Bridges of Madison County with better food. Presented in collaboration with The Center for Literature and Theater at Miami Dade College. 7pm
Monday, June 25, Gables

Mississipppi native Jesmyn Ward's second novel, Salvage the Bones (Bloomsbury, $15)
won the National Book Award in 2011. Tonight, we are privileged to host this extraordinarily-gifted writer whose family of characters "deals with the threat and then the actuality of Hurricane Katrina in much the way that Faulkner's folk once dealt with fire and flood; the voice here is lyric, unsparing, and fierce." As the twelve days that make up the novel's framework yield to their dramatic conclusion, this unforgettable family — motherless children sacrificing for one another as they can, protecting and nurturing where love is scarce-pulls itself up to face another day. A big-hearted novel about familial love and community against all odds, and a wrenching look at the lonesome, brutal, and restrictive realities of rural poverty, Salvage the Bones by Jesmyn Ward is muscled with poetry, revelatory, and real. Presented in collaboration with The Center for Literature and Theater at Miami Dade College. 8pm
Wednesday, June 27, Gables

The Washington Post's Manuel Roig-Franzia chronicles the ascension of Florida's young and handsome junior senator in The Rise of Marco Rubio (Simon & Schuster, $25)
. Roig-Franzia draws on hundreds of interviews and documents, tracing an inspiring family saga that begins beneath a thatched roof in rural Cuba and leads to the United States Senate. The result is the most comprehensive account yet of his life and career—one that describes his natural gifts, the skills he learned along the way and the ones he has yet to master, and answers the question of whether he has what it takes to one day make a claim on the White House. 8pm Note: Meet the Senator in person on Saturday, June 30 when he autographs his new memoir, An American Son (also available in Spanish, Un hijo Americano) at Books & Books in Coral Gables at 7:30pm.(See below).
Thursday, June 28, Gables

In Sea Change (NAL Trade, $15)
by Karen White, Ava Whalen has struggled with a sense of not belonging, and now, at thirty-five, she still feels stymied by her family. Then she meets child psychologist Matthew Frazier, and thinks her days of loneliness are behind her. After a whirlwind romance, they impulsively elope, and Ava moves to Mastthew's ancestral home on St. Simons Island off the coast of Georgia. But after the initial excitement, Ava is surprised to discover that true happiness continues to elude her. Her new home seems to hold as many mysteries and secrets as her new husband. Feeling adrift, Ava throws herself into uncovering Matthew's family history and that of the island, not realizing that she has a connection of her own to this place—or that her obsession with the past could very well destroy her future. 8pm
Friday, June 29, Gables
Live Music in the Courtyard: NANAMI MORIKAWA TRIO, 7-11pm
Saturday, June 30, Gables


AUTOGRAPHING ONLY: This event is Senator Rubio's first exclusive autographing in Miami. Vouchers are available beginning June 1 at Books & Books in Coral Gables, Miami Beach and Bal Harbour Shops. One voucher entitles you to one (1) copy of the book in either English, An American Son (Sentinel, $26.99)
or in Spanish, Un hijo americano (Sentinel, $26.99)
. Your voucher will serve as your entry to the autographing line.
The book will be published on June 19th. You may redeem your voucher for a copy of the book anytime after June 19th, or at the autographing on June 30th. Your voucher will then be stamped by our staff to indicate your book has been claimed.
Even if you exchange your voucher for a book before June 30, please be sure to save it and bring it with you to the autographing as you will have to show it to gain entrance to the event. Books & Books is NOT responsible for lost or stolen vouchers.
Few politicians have risen to national prominence as quickly as Marco Rubio. He served in the Florida House of Represen­tatives from 2000 to 2008 and was elected to the U.S. Senate in 2010. His committee assignments currently include Commerce, Science and Transportation; For­eign Relations; Intelligence; and Small Business and Entrepreneurship. At age forty-one he's the subject of widespread interest and speculation. But he has never before told the full story of his unlikely journey, with all the twists and turns that made him an American son. There is no limit on the number of books that Senator Rubio will sign, but he will not be able to personalize. Photos may be taken in passing, but not posed. 7:30pm
Saturday, June 30, Westhampton Beach

Books & Books is thrilled to welcome Robert Goolrick for his much-anticipated second novel Heading Out to Wonderful
. Goolrick is the author of the #1 New York Times bestseller A Reliable Wife, which received critical acclaim for its powerful story and has been a Books & Books bestseller year after year. Exciting and erotically charged, this is an altogether unforgettable story of love gone terribly wrong in a place where once upon a time such things could happen. You can count on Goolrick to weave a suspenseful, psychologically acute tale like no one else. Join us for a special event with one of our (and chances are, one of your) favorite authors! 1pm