Pictured left to right; Felipe and Maria Barreda with son, Victor Barreda (front), St. Jude patient; Nigel Barker, Photographer and Host of The Face on Oxygen Network; Belkys Nerey, WSVN-Channel 7 Anchorwoman; and Chris Molho, General Manager, Village of Merrick Park pose for a photo in front of Barker's new photo exhibit at 'In the Now @ Village of Merrick Park.'
This weekend marked the debut of the highly anticipated In the Now @ Village of Merrick Park event, where hundreds of attendees enjoyed high-fashion runway shows, in-store experiences, live entertainment and a special appearance by top photographer and television host, Nigel Barker. The inaugural two-day event was created and hosted by Village of Merrick Park, Coral Gables' – Miami's premier shopping center for everything "fashion" – to serve as the official showcase for what's trending this summer while benefiting St. Jude Children's Research Hospital.
The weekend kicked off Friday, May 3 with a by-invitation-only VIP gala where hundreds of Miami's fashion elite caught a sneak peak of CH Carolina Herrera's new collection. Nigel Barker, celebrity fashion photographer, America's Next Top Model host seasons 2-18 and currently the host of The Face on the Oxygen Network was the evening's special guest of honor.
Officially kicking off the two day event was Chris Molho, General Manager, Village of Merrick Park; who was joined by Diana Riser, Publisher, Miami Magazine; and Erika Mayor-Diaz, South Florida Region Associate Director, St. Jude Children's Research Hospital, which presented a local family which has directly benefited from St. Jude's efforts. Rodner Figueroa, TV host and fashion journalist at Univision Network served as the evening's host. Guests – who represented Miami's fashion-forward who's who – mixed and mingled while enjoying complimentary cocktails courtesy of sponsors Ketel One, Don Julio and Johnnie Walker.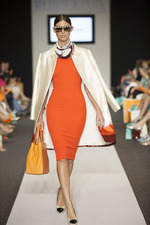 The fashionable festivities continued Saturday, as guests enjoyed glimpsing the styles trending for summer as part of three fashion shows presented by Neiman Marcus (pictured left), Nordstrom and Juicy Couture. Another fashion highlight was a Q&A with Nigel Barker, where he shared insights on this season's trends along with updates on his career in fashion and photography. Barker also held a meet and greet with shoppers.
The two-day event also served as the kick-off for Nigel Barker's exclusive new photo series for Rock Paper Photo – RAW: The Fine Art Photography of Nigel Barker. A gallery exhibit showcasing images from the collection is available for viewing and purchase in the Artrageous Gallery located on the third floor of the center through the end of the month. Ten percent of photo sales in May will be donated directly to St. Jude in addition to the donations made by many of the center's retailers, who donated a portion of sales from the weekend.
Throughout the day, Village of Merrick Park and its retailers kept the mood fashionable and fun with live entertainment from Miami Dolphins' resident DJ Supersede, restaurant tastings by Mariposa, from CRAVE and also from SAWA, which presented an exotic belly dancing show, and champagne, shopper discounts, and other offerings.