On the eve of the famed Ultra Music Festival, Kimpton's EPIC Hotel and Ocean Drive Magazine partnered up to host "A Sound for All the Senses" on Thursday, March 14. Hosted by on-air personality Chris Cruz, the event brought in nearly 200 attendees who danced and enjoyed the latest EDM (electronic dance music) spins of DJ Robbie Wilde (aka "That Deaf DJ"). Proceeds went to Starkey Hearing Foundation, which uses hearing as a vehicle to improve the lives of individuals, families and communities around the world by helping them reach their full potential.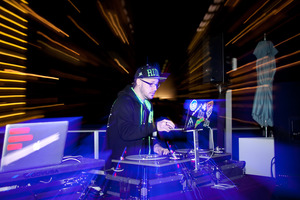 In addition to a signature set by Wilde, attendees were treated to a "sense-sational" night with tasty cocktails and bites, photo ops, and mini-massages, courtesy of Exhale Spa.
Held on EPIC's signature 16th floor pool deck overlooking downtown Miami, guests also had the opportunity to meet-and-greet with DJ Robbie Wilde, and enjoy a special Miami mix he created just for this event. DJ Robbie Wilde's unique style of scratching and intricate phrasing of songs has earned him a glowing reputation among the industry's top spinners – this despite his hearing disability. Ninety percent deaf since the age of 11, DJ Robbie is quickly becoming a household name, spinning for the better part of a decade, as he literally feels the music to hear the music.
Located at the center of the action, and with a guest and service experience that lives up to its name, EPIC and its staff epitomize Miami at its best. Located along the Miami River overlooking Biscayne Bay on famed Brickell Avenue, EPIC is a distinctive luxury, waterfront hotel at the epicenter of some of the best attractions, boutiques, restaurants and entertainment. With its timeless and classic contemporary take on Miami design, spectacular skyline views, and dramatically designed spaces, EPIC offers guests a true cosmopolitan resort experience that combines Miami's distinctive global vibe and energy, with exclusive amenities such as a 16th floor roof-top pool deck, top-rated restaurants, and Exhale spa.
For more information on EPIC and/or reservations, please call (866) 760-3742 or visit www.epichotel.com. To stay up-to-date on the latest news and travel deals, become a fan of the EPIC Hotel Facebook page by visiting www.facebook.com/epichotel